Webinar: Preparation, implementation & tools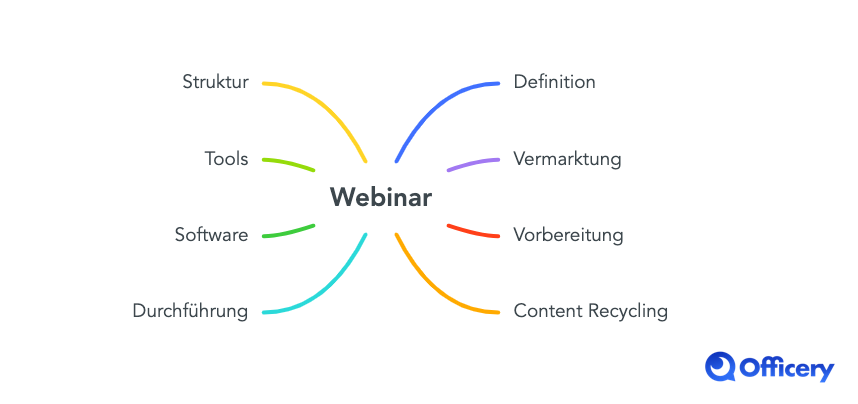 Webinar: The Ultimate Guide
What is a webinar?
A webinar is an online format of a face-to-face seminar that you can use as an additional sales channel to reach your target groups. Typical use cases of webinars are: product presentations, training courses or the organization of online events . Webinars are often used to generate leads in order to achieve the overarching goal - more sales. In contrast to a normal video conference, a webinar is primarily used to impart knowledge through high-quality content that helps your target group either solve a problem or achieve a desired result. As a webinar organizer, you have less planning effort than with a face-to-face seminar, since the topics of location and catering are no longer relevant to you. Not only do you save on costs, you are also more flexible in terms of time than with an on-site seminar.
You can conduct a webinar with a stable internet connection and a laptop.
Benefits of a webinar
1. Sell 🤑
Webinars are a great way to sell your products automatically because:
A webinar can theoretically work for you 24 hours a day, 7 days a week.
2. Build trust
Turn strangers into interested parties: With a webinar you communicate directly with your target group and they can get to know you better.
3. Onboard customers
The worst for a seller? When a customer withdraws their purchase decision. A product that needs to be explained and which raises many question marks with your customer after purchase can quickly lead to buyer regrets. Buying remorse costs you sales.
With a webinar you avoid that something like buyer's remorse can arise. Use a webinar to teach your customers about your products:
How these work and how you want your customers to use them.
Webinar: You should keep this in mind when preparing
A good preparation of a webinar is the A&O! Because what many unfortunately neglect: With a webinar you always pursue a specific goal. The overall goal is to generate more sales for your business. But to do that, you need to get your prospects up the buying pyramid to move faster to the next level in the sales process
A webinar is the ideal tool for this. The preparation can be divided into two topics:
Preparing the content: Which topics do you want to address?
Which content helps your target group?
The technical preparation: What equipment do you need to conduct your webinar? What should your background look like?
Note: The webinar participants only see a small part of your image: you should pay even more attention to the details so that your overall effect is professional and coherent. What you definitely don't want to achieve is that your potential customers perceive you as dubious or not trustworthy at all.
Content preparation
First of all, the time frame should be clear to you: webinars are between 60-90 minutes long. This time frame is perfect for participants who want to consume quick, but also profound knowledge in everyday life - completely independent of location and also without obligation.
A helpful formula for preparing your content:
2/3 content: knowledge transfer, benefits for your customers
1/3 Sales: The logical next step for your potential customers
Example: You are holding a webinar to train your customers on new software
In the content part, you give your participants an overview of the functionalities of the software and show examples of how your participants can use this software in their everyday work for specific use cases.
In the sales part you present the logical next step for your customers:
This can be another training course for beginners, in which you z. B. go through real business processes with the help of the software. In other words: The logical next step is another webinar, which focuses on special topics in terms of content.
Another logical next step could be the purchase of your online course, which is linked to your webinar in terms of content and which your participants can also work through at any time.
Experience has shown that you should plan about 10 minutes for the beginning and end of your webinar. 10 minutes at the end to answer the questions of your webinar participants.
Technical preparation
Although you can conduct a webinar with an internet-enabled laptop and a stable internet connection, it is worth giving more thought to your technical equipment.
Note: As a webinar expert, you have to look and act like one. Poor picture and sound quality can make you look unprepared and, at worst, literally amateur.
Don't worry, but you don't need to set up a complicated or even expensive film studio in your home office.
External webcam
In a webinar, you as the speaker usually have your camera on. Never use your laptop-integrated webcam! These are simply not up-to-date in terms of their image quality. Use an external webcam instead.
Ring light as illumination
Your picture always conveys a certain atmosphere. Unfortunately, very few are really aware of this and they neglect their lighting in the home office.
Always put yourself in the shoes of your webinar participants:
Imagine you are attending a webinar. You click on the invitation link and the first thing you see is the picture. Which of the following pictures is the most pleasant for you?
Right, definitely the right picture. Keep yourself well lit with a simple ring light so you look natural and trustworthy.
Webinar tools
Which webinar tools are suitable for which purposes?
Here is an overview of the best tools.
Open source tools are also included!
share documents
moderation boards
Video conferencing software providers such as Zoom and Bigbluebutton already have an integrated whiteboard that you, as the moderator, can use to brainstorm with your webinar participants.
Survey
The Zoom video conferencing software has the free "Create poll" functionality. This must first be activated via your account settings. Watch our video to learn how to enable this feature in Zoom.
Webinar: Similarities and Differences of Software Vendors
Which software is best for my webinars? That depends on how you want to structure your webinar!
Basically, there are some basic functionalities that you should pay attention to when choosing a suitable webinar software.
Appoint moderator and give control
If you hold webinars primarily in front of a larger audience and with a lot of interaction options, it is worth appointing another person as moderator. The moderator has an overview of the participants and introduces questions from the audience. With the most common webinar software, you can assign special rights to the moderator, for example, so that they can mute or switch participants on or share their screen.
Laser pointer/pen
If you work a lot with slides or text in general in your webinar, there are always points that you want to emphasize. A digital laser pointer or pen will help you here, with which you can visually highlight something.
By color marking content, you control the attention of your webinar participants.
---