How to Increase Your Competitiveness with Remote Work Smart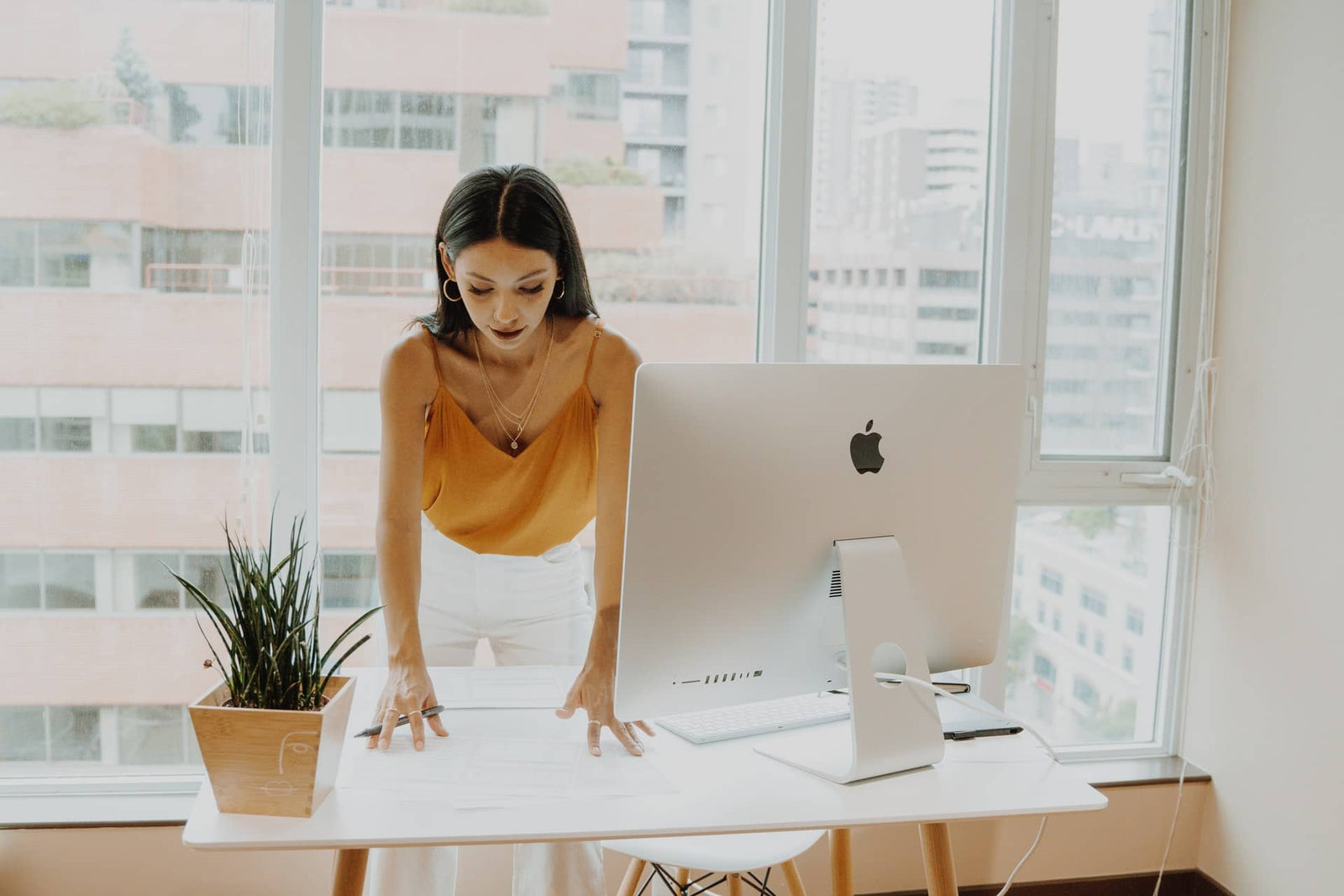 Particularly since the emergence of the coronavirus pandemic, terms such as remote work and home office have been used more and more in our everyday lives. Business trips to customers and face-to-face team meetings were mostly eliminated; instead, meetings increasingly took place via video conferencing using Zoom, Skype, Jitsi, Officery CONNECT & Co. Not only in the business sector was there a switch to the home office, but also in the education sector. In order to make homeschooling possible, teaching was also shifted to video conferencing, and the same applied to online lectures at universities.
In this article, you'll learn what remote work actually is, how remote work can increase competitiveness, and how modern workplaces can ensure your company's positioning.
Table Of Contents
What is Remote Work?
Remote work means nothing more than that employees of a company and self-employed persons can carry out their work from any location. Communication consists primarily of telephone calls or online meetings via video conferencing.

This means that all the work that would otherwise has to be done in a regular office on a PC can be done completely independently of any location. There is no fixed workplace here, which is why people often talk about mobile working in connection with remote work.

Companies face the challenge that not all work can be performed remotely. However, the pandemic in particular showed that jobs based on direct customer contact, for example, can also take place via video conferencing. Even recruiting has changed to the extent that HR managers conducted online job interviews.
Advantages Of Remote Work
For most people, remote work initially appears to be beneficial only to the employee. But this is not the case: Companies can also benefit from remote work, thereby increasing their competitiveness and ensuring good positioning in the market.
1. Higher Productivity
Contrary to the common assumption that remote workers and self-employed individuals are not as productive as office workers, remote work creates an environment in which most employees feel comfortable.

It eliminates the need for very long commutes, while the actual work is not interrupted and disrupted by colleagues or daily (and sometimes) redundant meetings.
2. Effective time-saving
Every day, millions of people commute from home to work and vice versa. Calculated on a monthly basis, this results in many hours that simply fizzle out.

With remote work, precious life-time is saved. Instead, the available time can be used for completing tasks.
3. Improvement of health
When employees, employers and the self-employed people have to commute less, they are usually also allowed to sleep in a little longer.

Food is freshly prepared in the own kitchen, while breaks can be taken as needed and self-determined. This promotes general health and satisfaction of all remote workers.
4. Better Reconciliation of Work and Family Life
Many employees and entrepreneurs have a family. If the long commutes are eliminated, the care of one's own children can be planned and carried out much more flexibly and with less stress.

This reduces the physical and mental stress drastically, which again contributes to the health and satisfaction of employees.
5. Cost savings
Remote work can save employees' time and stress. For employers and companies, however, remote work also pays off financially.

With modern workplaces, significantly fewer rooms and therefore less materials and equipment are needed.
6. Protect Wallet and Nature
Remote workers use significantly less gasoline that they would otherwise need for long commutes. In addition, emissions which are produced primarily during traffic jams are reduced.
These advantages can increase a company's competitiveness in a very short time, because currently not all companies have been able to discover and implement the benefits of remote work for themselves.
In addition, this competitive advantage can automatically generate more revenue while allowing companies to differentiate themselves from their competitors.

Remote Work: The Future of Modern Workplaces
Despite the fact that remote work is becoming more and more common, this modern approach has not yet really arrived everywhere. Only very few companies concentrate their core business on remote work, and these are mainly small and medium-sized companies.
Large companies in particular are very skeptical about this modern way of working, because the conservative basic attitude to work and management methods usually still prevails.

Here, entrenched customs, structures and procedures must be broken through in order to create space for developments that are already within reach and cannot be dismissed out of hand.
Remote Work Is a New Mindset
As mentioned before, large companies in particular are struggling with the new remote work mindset. For example, in most companies, employees' working hours are recorded from arrival to closing time.

Also, employees in conservative companies are usually subject to strict performance monitoring, which puts a lot of pressure on many employees. This is mainly due to the misconception that employees will only put in the effort that drives the company forward through tough management and regular monitoring.

However, there are already several studies that indicate that productivity doesn't have much to do with "time served" or a "tough leadership" style. In fact, one study
finds out that only about 3 hours of an average day in the office are used productively.

So there needs to be an attitude shift among executives, business owners and employers if they want to increase their company's revenue with remote work. Furthermore, the aspect of employees' mental health is moving further into the foreground. This determines how productively the employee can work in the home office and has an impact on the general work-life balance.
Remote Work? Yes, But In a Smart Way
Remote work is the optimal solution for more flexibility, productivity and turnover. Many therefore describe remote work as the future of the modern working world, the advantages of which are obvious - for employees, employers and the self-employed alike.
This has resulted in numerous success stories with remote work, such as at the American software provider Buffer: There, more than 75 employees in the most diverse time zones work together exclusively via remote work and thus generate impressive revenues.
So it's not just a matter of THAT remote work exists, but more of HOW it is carried out and lived. But what exactly does a remote worker look like? How do employees work remotely and what do companies have to do in order to increase sales with implementing remote work as a running system?
How Remote Work Can Be Used to Increase Revenue
A remote worker needs a certain amount of discipline. Since - unlike in many conservative companies - no one sits behind a remote worker and watches every move of him or hers, companies must be able to trust that the tasks will be completed largely independently and with discipline.
The ideal remote worker should also have a certain level of software and hardware experience. Cloud-based tools in particular are not familiar to everyone. If the hardware goes on strike, there is no IT department in the next room that can solve problems immediately. So it is definitely advantageous if the future remote worker can fix minor hardware or software errors himself and use the most common tools. It is also particularly important that the future remote worker appears professional in video conferences and can represent the company confidently from remote. For this purpose, we have written a separate blog post that summarizes the five best tips for a professional video conference. It not only describes which equipment is needed for a smooth video communication, but also how equipment such as lights and webcams should be best positioned.
The Modern Leader
But how can employers make the most of remote work? For example, there are now numerous tools for tracking the progress of a project, such as Google Docs or certain project management tools. Updates and notifications can be tracked, checked and also corrected.
Many successful companies that rely almost exclusively on remote work also hold a daily "stand-up meeting" in which remote workers, office workers and managers can exchange information via video chat and keep up to date on the current status of projects. Companies that have recently had to make the switch from working face-to-face in the office to 100% home office or remote work face the challenges of evaluating secure GDPR compliant video conferencing software and finding the right video conferencing equipment.

In order to use remote work in a revenue-generating and productive way, companies need to understand remote work, be able to manage their remote work team and provide remote workers a modern workplace.
---