Microsoft Dynamics 365 Business Central introduction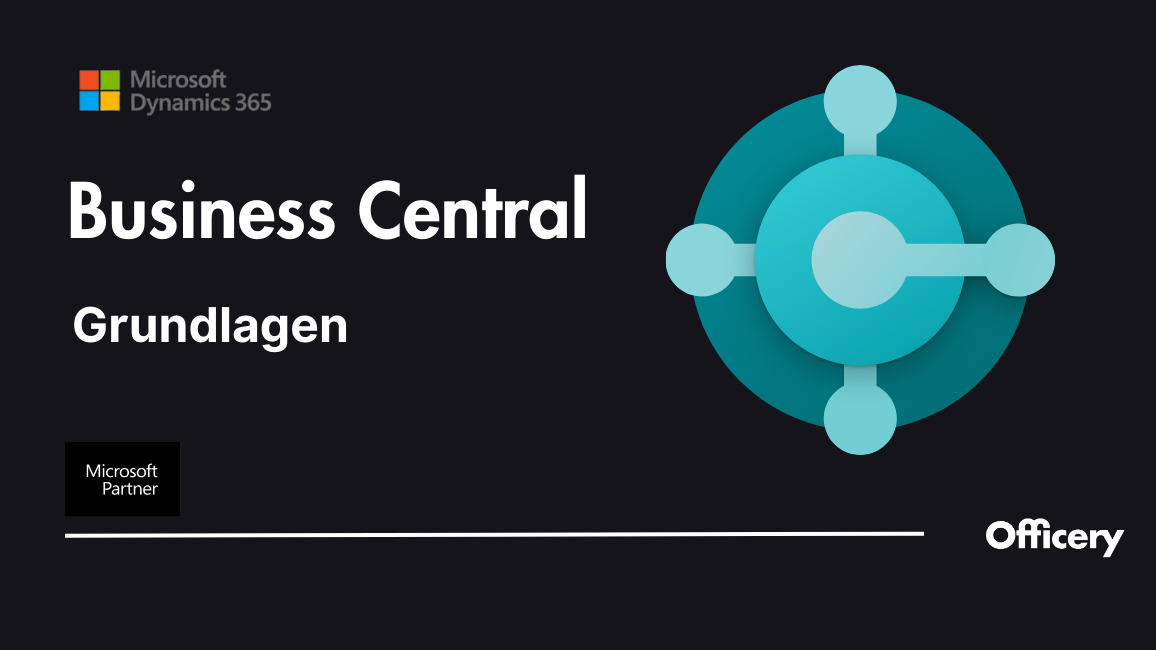 What is Microsoft Dynamics 365 Business Central?
Microsoft Dynamics 365 Business Central - or Business Central for short - is a standard ERP software from Microsoft and the successor to the older version Microsoft Dynamics NAV.
ERP is the abbreviation of " Enterprise Resource P lanning" and represents a central database in which all information flows of business processes within a company are mapped.
In simple terms, an ERP system helps you manage your business by giving you quick and clear access to your relevant data.

With just a few clicks you can get an overview of your sales, payables and receivables, production orders, stock levels and invoices. A detailed management summary of what Business Central can do helps decision-makers to evaluate the extent to which Business Central is suitable for their own company.
Unfortunately, many people confuse Microsoft Dynamics 365 with Business Central or understand Dynamics 365 as the ERP system Business Central. However, these are two different solutions from Microsoft!
As standard ERP software, Business Central combines financial accounting, purchasing and sales, production, warehousing and logistics.
Through so-called add-ons and apps in Business Central, the industry solutions or individual functionalities for a specific department, such as g. controlling, the standard of Business Central can be expanded.
In Business Central, important business processes can be digitized and, to a certain extent, automated. In this way, an offer can be entered directly via Business Central and sent to a customer by e-mail.

If the customer accepts the offer, an order confirmation can also be sent via Business Central and an invoice can be sent after successful order processing.
Find out in our Business Central Management Summary how you can use Business Central to automate your order processing and fulfillment process.
Business Central is provided via the cloud and can be accessed via a web client. Thanks to a rental model, the entry-level costs for
Business Central licenses
from €7 per month per user are very low and extremely manageable.
Many processes in Business Central can also be made more efficient for the areas of purchasing, production and logistics.
The item principle in Business Central makes it possible to understand user processes and create transparency within teams.
The benefits of Business Central
Simple operation supported by a modern user interface
No matter which ERP system you use:
A high level of user acceptance is one of the three success factors for a successful ERP implementation.
Increase user acceptance and the will to change with the help of a modern and intuitive user interface.
Business Central's modern user interface can be accessed via laptop, smartphone or tablet.
In our management summary , learn 7 secret tips on how to increase acceptance and willingness to change in your company.
Low overall costs thanks to a manageable price model
In contrast to the previous versions, the pricing model for Business Central is much more transparent. Thanks to the rental model, the entry costs of €7 per month per user are relatively low.
All that is required to use Business Central is a stable internet connection and an internet-enabled device, such as a laptop. Thanks to the cloud, there are no high investment costs for servers and their maintenance.
Fully integrated Microsoft economy: Seamless interaction of all Microsoft apps
Business Central, Outlook, Microsoft Teams and Sharepoint - Microsoft ensures a similar user experience in all apps.
Business Central easily imports lists of data into Excel, and Outlook is integrated so quotes can be emailed directly from Business Central.
Extensively customizable to your needs
The special thing about Business Central is the extensive customization options. On the one hand, you can personalize in the frontend, in the user interface - also called "role center" in Business Central. All menu items, functionalities, tiles and fields can be easily moved, shown or hidden with just a few clicks.

This high degree of personalization increases user acceptance, which is a key success factor when introducing Business Central.

The backend can also be adapted to develop a special solution for customer needs.
Numerous interfaces integration possible


Over 2,800 apps and add-ons from third-party providers are currently available via Microsoft AppSource , with which the Business Central standard can be extended and all interfaces to e.g. B. Integrate with Shopify. Business Central can also be extended with Microsoft 365, the Power Platform and the Azure Cloud Platform and not only enables global access, but also improves security and flexibility.
Free demo version available
Microsoft offers a free demo version of Business Central with no trial period limitation. The well-known CRONUS client is set up in this test version.
Always stay up-to-date thanks to automatic updates
Thanks to Microsoft's automatic updates, you can put your mind at rest about the cost and hassle of upgrading, backing up and patching.
Twice a year, in April and October, new upgrades are introduced via so-called release waves.
You always have the opportunity to decide when the latest upgrades should take effect in your environment and you can view the upgrades planned by Microsoft.
You also don't have to worry about troubleshooting or lost productivity when patches should occur. Microsoft takes care of this as well.
Furthermore, Business Central also supports disaster recovery and performs automatic backups, storing your data for up to 30 days.
Make smart decisions through advanced analytics
Built-in AI capabilities allow users to access data across multiple dimensions in Business Central.
On the basis of cash flow forecasts and default forecasts, late payments are uncovered and the finances are presented transparently.
The data visualization tool Microsoft Power BI can also be fully synchronized in Business Central, so that the overview of charts, graphics and dashboards with the most important metrics is always at hand.
Detailed Microsoft documentation and learning paths for users included
In addition to detailed documentation on Business Central, Microsoft also offers learning paths. Using the learning paths, users can acquire specialist knowledge independently using short videos and knowledge tests
Similarities between Business Central and SAP
At a certain point, companies face the same challenge:
IT must be taken into account for growth, but what does a long-term IT strategy have to look like so that processes, tools and resources can grow with the company?
After all, over time there will be more users, transactions and data, and the range of requirements will also increase . In order to meet increasing requirements and to be able to establish a flexible IT structure, the ERP system must be set up just as flexibly.
Companies that have been using SAP for years often ask themselves whether switching to Business Central makes sense in the long term.
The similarities and differences between Business Central and SAP are highlighted below.
Lean cost structure thanks to cloud application
Accept high investment costs and tied-up capital, or would you rather choose a flexible, scalable cost structure with low initial costs?
In contrast to on-premises solutions, cloud applications are designed for cost savings through flexible pricing models and monitoring of resource consumption.
Extensive modules
Both in SAP and in Business Central, all departments and business processes within a company are mapped via various modules. Financial management is always at the heart of this, because every process in an ERP system ultimately ends up in financial accounting.
Automated invoice posting and payment runs
Delays in payment permanently destroy supplier relationships, ruin liquidity planning and cause you to miss cash discount periods. All of this because paper bills (still) have the upper hand and the paper economy has to be maintained.
Process invoices faster - that's what makes efficient accounting.
Both in SAP and in Business Central, invoices can be recognized electronically and automatically, assigned to an existing order and posted automatically.
Differences between Business Central and SAP
CRM integration
The golden duo of CRM and ERP is in the right place in Business Central and sets Business Central apart from many other ERP software.
In each contact, the most important activities with customers can be viewed transparently via a so-called history. These include e.g. e.g.:
order confirmations
bank statements
General correspondence
The list of items provides an overview of past transactions for a contact, such as invoices and credit notes.
Individual adjustments without programming knowledge are only possible in Business Central
Individual adjustments in the ERP system usually require programming effort, which arises again with each update.
It is possible to make small adjustments in Business Central via Microsoft AppSource, e.g. B. the addition of new fields, to be carried out by the company itself using no-code. In other words, users can quickly add their own fields without any programming knowledge.
Open Business Central easily and without installation
Business Central runs via a web client and requires no download. In order to be able to use Business Central to its full extent, you can choose between three Business Central licenses .

The Business Central app can be opened via the Office start page. When opening, make sure to select the correct environment and check the client .

The user interface
The user interface - also known as the "Role Center" - is the start page for every user in Business Central as soon as they have logged in.
Depending on the user role assigned to you as a user, different functionalities are displayed on the user interface.
The Role Center consists of a central dashboard and contains lists and tiles tailored to the role.
A user with the role of sales and marketing manager will see all lists and functions in the sales area, and a user in the purchasing area will see the corresponding function in the purchasing area.
For example, Business Central includes a master list of all your customers and their outstanding balances that you can simply click on and view their transactions, communications, and historical data.

Via the Role Center, users can access the most important lists of data directly, see the processing status of e.g. B. Invoices, orders or purchase orders.
---